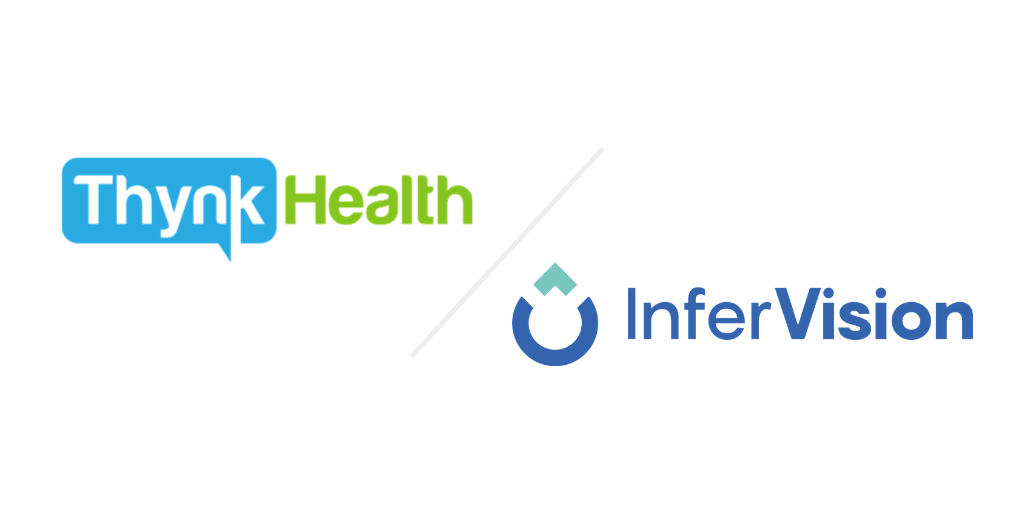 Thynk Health and InferVision Partner to Fight Lung Cancer with Advanced AI and Deep Learning Technologies
[02/10/2021], Lexington, KY: Thynk Health and Infervision, pioneers in the healthcare artificial intelligence space, have announced a partnership between their platforms to fight lung cancer with the world's most advanced technologies. By combining AI-driven data and analytics abstracted from EHRs with the powerful AI-driven Imaging CAD technology, this partnership offers an unprecedented opportunity for lung cancer screening and pulmonary nodule management.
Thynk Health is the complete cancer screening and incidental finding management solution. Utilizing state-of-the-art artificial intelligence and deep learning algorithms, Thynk Health seamlessly integrates with EHRs and health systems to mine structured and unstructured data, organizing it in powerful, simple dashboards. With advanced automation and analytics, healthcare systems are empowering their cancer screening programs with actionable intelligence to be more effective and efficient.
"Radiologists are experiencing AI as an adjunctive tool, rather than the job-stealing technology previously warned by futuristic writers. This is evident in the ability to have a second set of eyes when looking for small or hilar region pulmonary nodules. When utilized in combination with advanced deep learning for language abstraction from reporting, AI technology is even more effective, allowing for radiologists to use traditional workflows, rather than archaic and cumbersome second workstation solutions," said Joey Bargo, Thynk Health Co-Founder, and Chief Product Officer.
Infervision is a leading global high-tech enterprise in medical artificial intelligence. Infervision A.I. improved diagnosis accuracy by up to 30 percent for diseases diagnosed from Chest CT and chest DR such as nodules, bone fracture, pneumothorax, and more. Leveraging the InferRead solution suite, Infervision integrates into clinical workflow, providing imaging assisted-diagnosis for multiple body areas including, but not limited to the brain, lung, skeleton, and bone. 
"The power of Thynk Health's AI-driven analytics abstracted from healthcare EHRs combined with the Infervision's Imaging CAD technology to generate data from imaging studies creates a comprehensive solution for lung cancer screening and pulmonary nodule management that offers healthcare systems a new level of patient care and growth," said Kevin Croce, Thynk Health Co-Founder.
Lung Cancer continues to be the leading cause of cancer death by far among men and women, making up almost 25 percent of all cancer deaths (more than colon, breast, and prostate cancers combined). In 2021 the American Cancer Society estimates 235,760 new cases of lung cancer will be diagnosed and 131,880 deaths from lung cancer will occur. Thynk Health and Infervision's partnership opens a new level of opportunity for healthcare systems to identify at-risk populations, diagnose and treat those populations when in early stages, significantly increasing survival rates. With advanced technology companies, healthcare systems, and communities partnering together we can, and we will win the fight against lung cancer.

About

The Thynk Health platform optimizes data-driven workflows and provides operational and clinical analytics for lung cancer screening programs and other quality initiatives. Thynk Health's Lung Module automatically identifies patients at risk for lung cancer, automates patient data and ACR submission, automates patient communications, automates tracking of incidental findings, engages providers, provides actionable LCS reports and offers pulmonary nodule tracking. Thynk Health is EHR agnostic and integrates with existing hospital systems (EHR, DICOM, PACS, scheduling, and more). Learn more at thynkhealth.com

Infervision has been devoted to the clinical application of artificial intelligence and deep learning technologies in health care, providing AI-based platforms and solutions that are fully integrated with the medical workflow for the best assistant to the medical professionals. Health providers in over 10 countries in Asia, Europe, North America, and around the world are using Infervision's highly precise and efficient clinical tools, empowering them with improved clinical insights. Infervision currently has 8 global offices and over 300 employees worldwide. Each day Infervision helps process over 53,000 exams and has processed 17M cases to date. Visit Infervision at infervision.com.