Complete Epic's Lung Cancer Screening Module with Thynk Health's Automation

Augment Epic's Lung Cancer Screening Module with Thynk Health's incidental findings and cancer screening management solution to improve follow-up care with automated tracking of incidental findings. Using advanced natural language processing and artificial intelligence to read radiology reports, structured data, and unstructured data, Thynk Health extracts and tracks critical nodule information: number of nodules, nodule size, nodule location, and nodule characteristics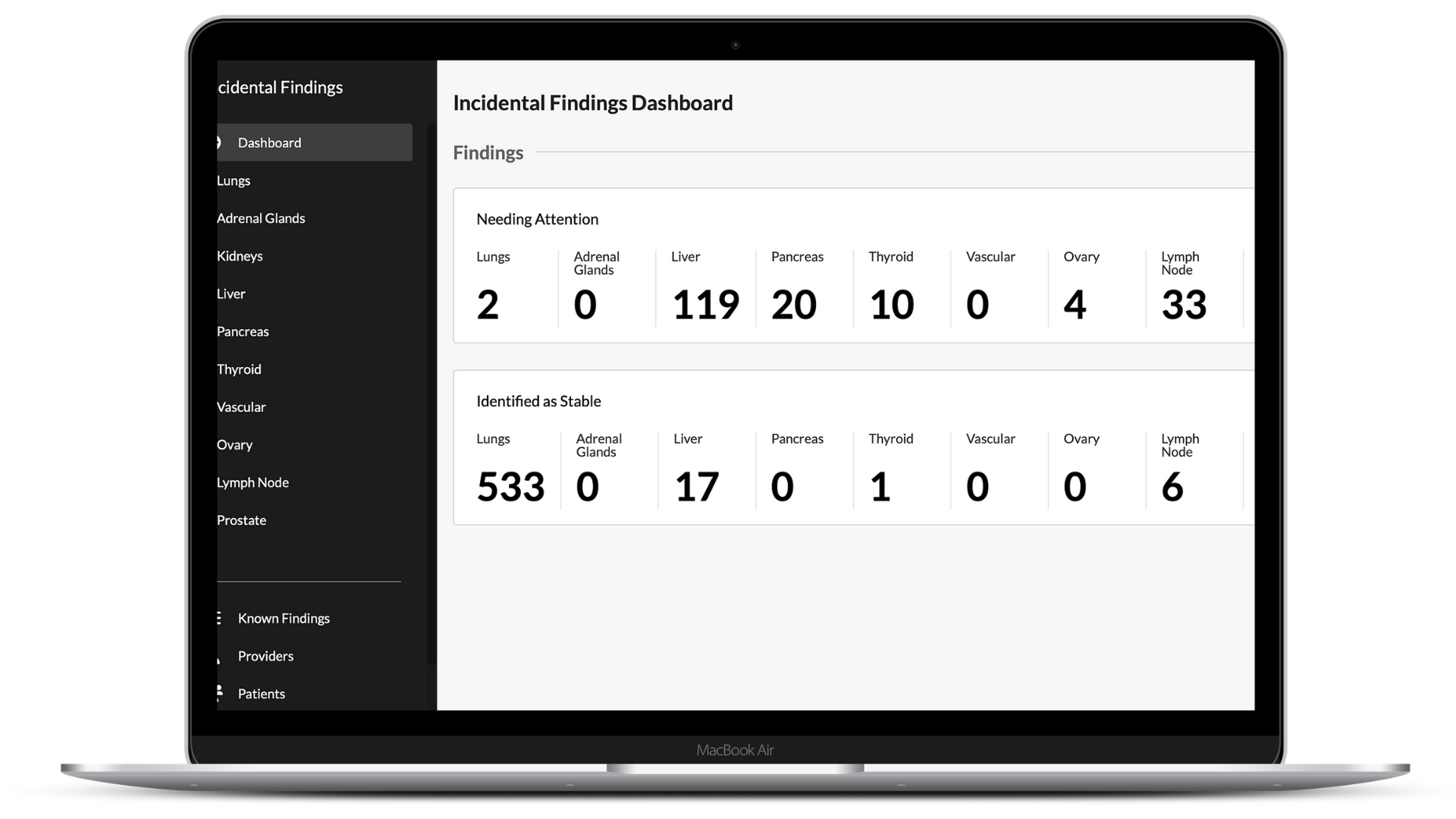 Patient timelines track pulmonary nodule changes and stability over time. With color-coded Brock Model risk scores based on nodule characteristics, patients are flagged for critical care and the next steps are offered based on best practices and guidelines set by industry leaders. This allows your team to efficiently identify patients who need to be entered into the lung cancer screening program and ensure incidental findings do not slip through the cracks.
While Epic offers a lung screening module, many users still require an incidental finding and pulmonary nodule management solution. Thynk Health's complete nodule navigation platform is available on the Epic App Market to complement the Epic Lung Module by further automating manual processes. It can also be used as a stand-alone product for non-Epic users.
How Thynk Health Compliments Epic's Lung Cancer Screening Module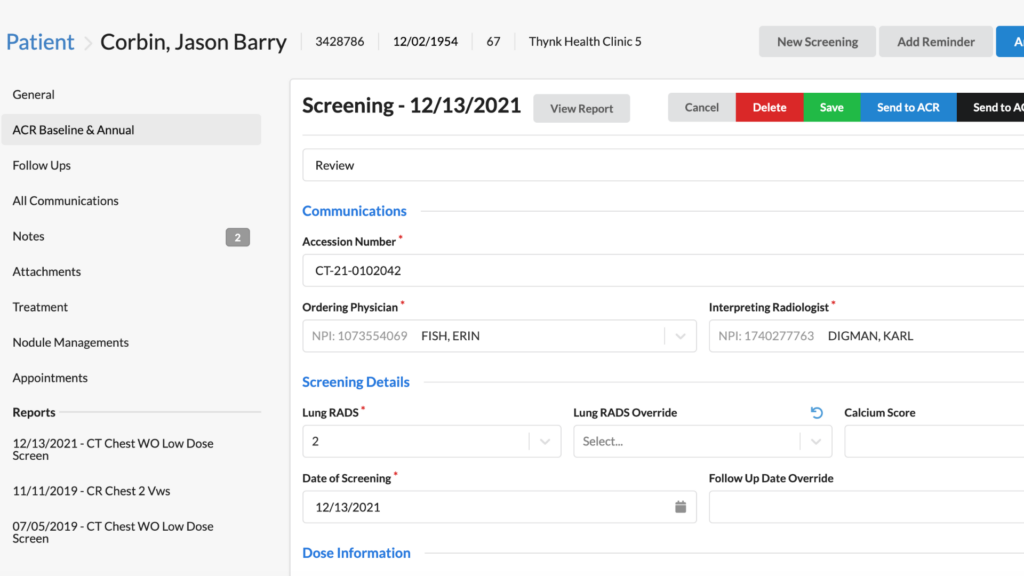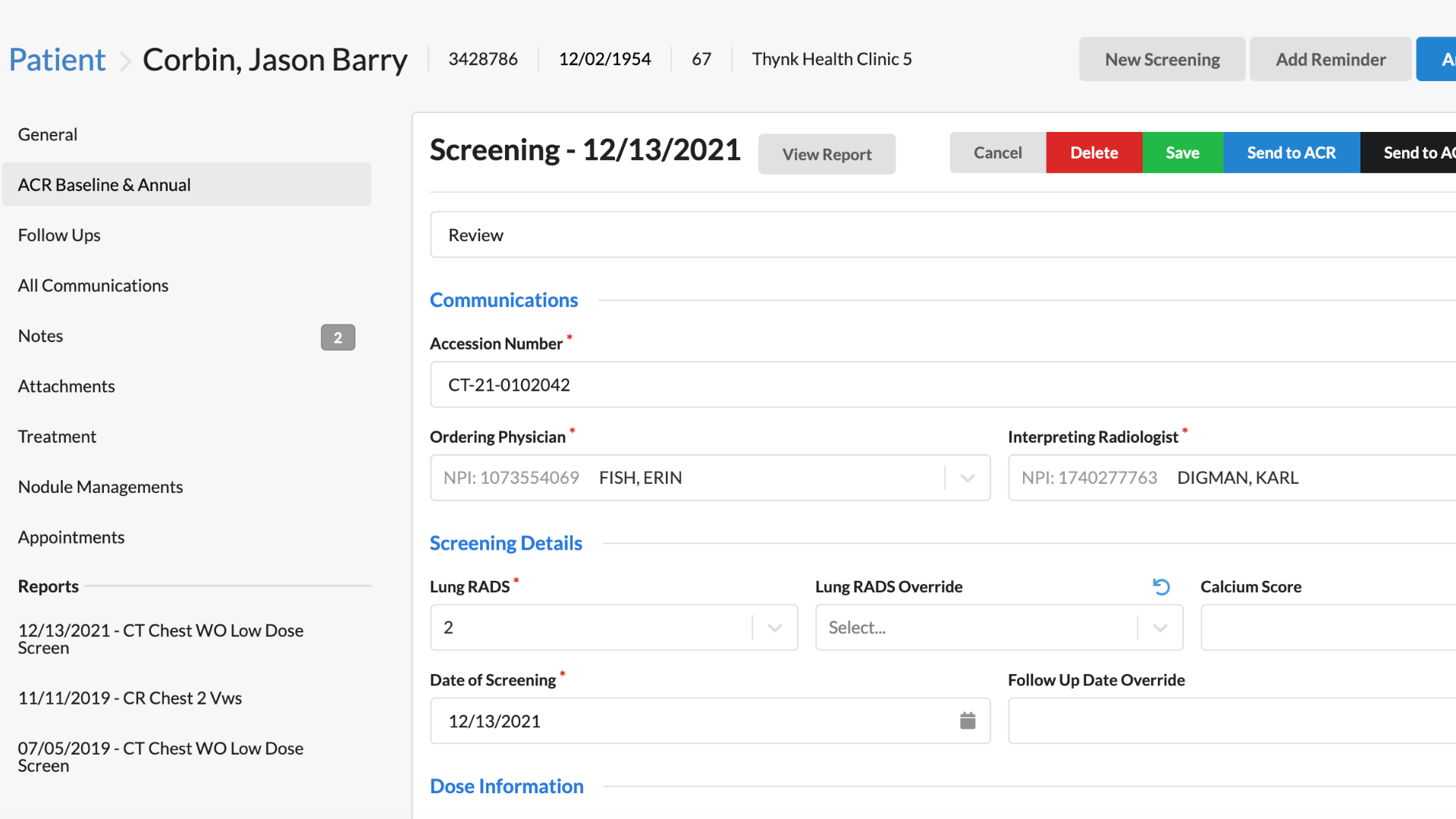 Thynk Health Specifications
Functional Areas
Patient Engagement,  Reporting & Analytics

Epic Versions
Epic 2014, Epic 2015, Epic 2017, Epic 2018, August 2018, November 2018

Caboodle Versions
Caboodle V15, Caboodle V16
Thynk Health leverages advanced natural language processing (NLP) and machine learning (ML) technology to make your screening program more powerful, efficient and effective. Automated recommendations feed into a user dashboard that easily facilitates follow-up, minimizes missed follow-up examinations and tracks incidental findings management.
Thynk Health's advanced NLP and ML technology augments Epic's 2017 Lung Cancer Screening Module enabling organizations to normalize text and data input from disparate reports, minimizing the need to disrupt, alter, and spend resources changing staff workflows. This technology offers relief from manual abstraction of elements like Lung-RADS, as well as identifies significant incidental findings in reports and presents those to the appropriate management dashboard.
Thynk Health also provides referring provider engagement and outreach tools and advanced program analytics. Use automatic letter generation to communicate test results to patients and providers, notify patients of upcoming screening examinations, and even notify patients or providers that they meet eligibility requirements. Automatically stay in touch with patients that failed to schedule their screening and send follow-up communications to prevent patients from falling through the cracks.
Steps to enable application:
1. Provide Thynk Health with Caboodle credentials
2. White list Thynk Health IPs to accept requests / queries, and the SQL Server URL endpoint.
3. Interfaces for radiology reports and DICOM may be needed
Thynk Health Interoperability Using Kit & Caboodle
Leveraging Kit,  a gateway to secure, scalable, and consistent data integration with third-party analytics vendors, Thynk Health can provide standard queries compatible out-of-the-box with any Epic community member's system and provide them directly to you.

Standard Data Model

Consistent data model across all community members
Shareable extracts and applications
Version compatibility
Reduced Costs
Vendors develop plug and play products
Less time wiring applications and extracts
Less retesting during upgrades
Security
Extracts only have access to Kit data
Monitor queries via auditing
Revoke vendor access at any time
Included in Caboodle
Kit is part of Caboodle, Epic's enterprise data warehouse, and provides standardized data elements from your Epic system. With Kit, you can use tools and products developed by vendors knowing they will work with Epic's standard data model. Potential uses for Kit include:
Standard extracts to decision support systems or external analytics platforms 
Data extraction to registries 
Submission of files to benchmarking vendors 
Applications or algorithms from third parties
App Orchard
Vendors join Epic's App Orchard program to receive access to the Kit data model documentation, sandbox, training, and support. You can find their products or list your own on the App Orchard marketplace available to the entire Epic community at apporchard.epic.com or contact apporchard@epic.com for more information.
Available Now
Kit is included in Caboodle version 16, available now, and is part of your Caboodle product license. Caboodle version 16 is compatible with Epic 2014, 2015, 2017, 2018, August 2018, and November 2018.

Thynk Health is fighting cancer by working with healthcare organizations and communities to disrupt outdated, burdensome cancer screening processes and incidental findings management to remove barriers between patients and treatment. Our sophisticated solutions automate and simplify healthcare data systems to ensure no patient slips through the crack.