Features Designed to Make a Difference
Thynk Health is on a mission to drastically alter these statistics with a total lung cancer screening solution that identifies and screens more at-risk patients, detects lung cancer earlier, and ensures patients do not slip through the cracks of  complex screening and care delivery programs. Explore how we partner with healthcare organizations to improve lung cancer screening programs, decrease administrative workload, increase hospital revenue, and create healthier communities.
Designed by Physicians for Physicians
Identify More At-Risk Patients
Thynk Health's LDCT Module integrates with your existing healthcare system's (EHR, DICOM, PACS, scheduling, and more) to extract critical data from patient health records. Analyzing patient demographics and medical history, the Thynk Health LDCT Module flags patients at a higher risk of lung cancer and reports findings to providers. Those eligible for lung cancer screenings can be automatically notified via custom mailings and communications.

Identify eligible patients from affiliated referral clinics – not only by what's discretely stored in the EHR, but also social history information within clinic notes.
1 of 1
Screen More At-Risk Patients
Transform your cancer program from reacting to a patient exhibiting late-stage symptoms to proactive care based on predictive analytics. We partner with you to deliver educational campaigns and targeted outreach to at-risk populations eligible for screening. For every 320 CT scans, one case of lung cancer will be identified. Volume matters significantly, and a proactive approach increases early-stage detection and survivability. Thynk Health's data automation removes the information bottleneck that accompanies manual data entry and inhibits program growth, allowing programs to scale up without increasing manpower and overhead, allowing more screenings and more early detection. With the Thynk Health's lung module, you can increase detection and survivability while increasing revenue without increasing operating costs.

Automate Patient Data & ACR Submission
Thynk Health fully automates redundant data entry without disrupting provider workflow and routines. Our advanced technology operates in the background of your hospital systems, using natural language processing and machine learning technology to extract data from radiology reports, pathology reports, surgical notes, and clinical notes, creating a complete patient profile.

Data is automatically formatted for ACR submission and submitted with one-click. 

Nurse navigators using Thynk Health reported a 25-minute average reduction per patient in time spent manually inputting data.

Thynk Health's LDCT Module is EHR agnostic and will expand the more limited automation provided by programs like Epic to remove the manual data entry requirements and fully automate your lung cancer screening program.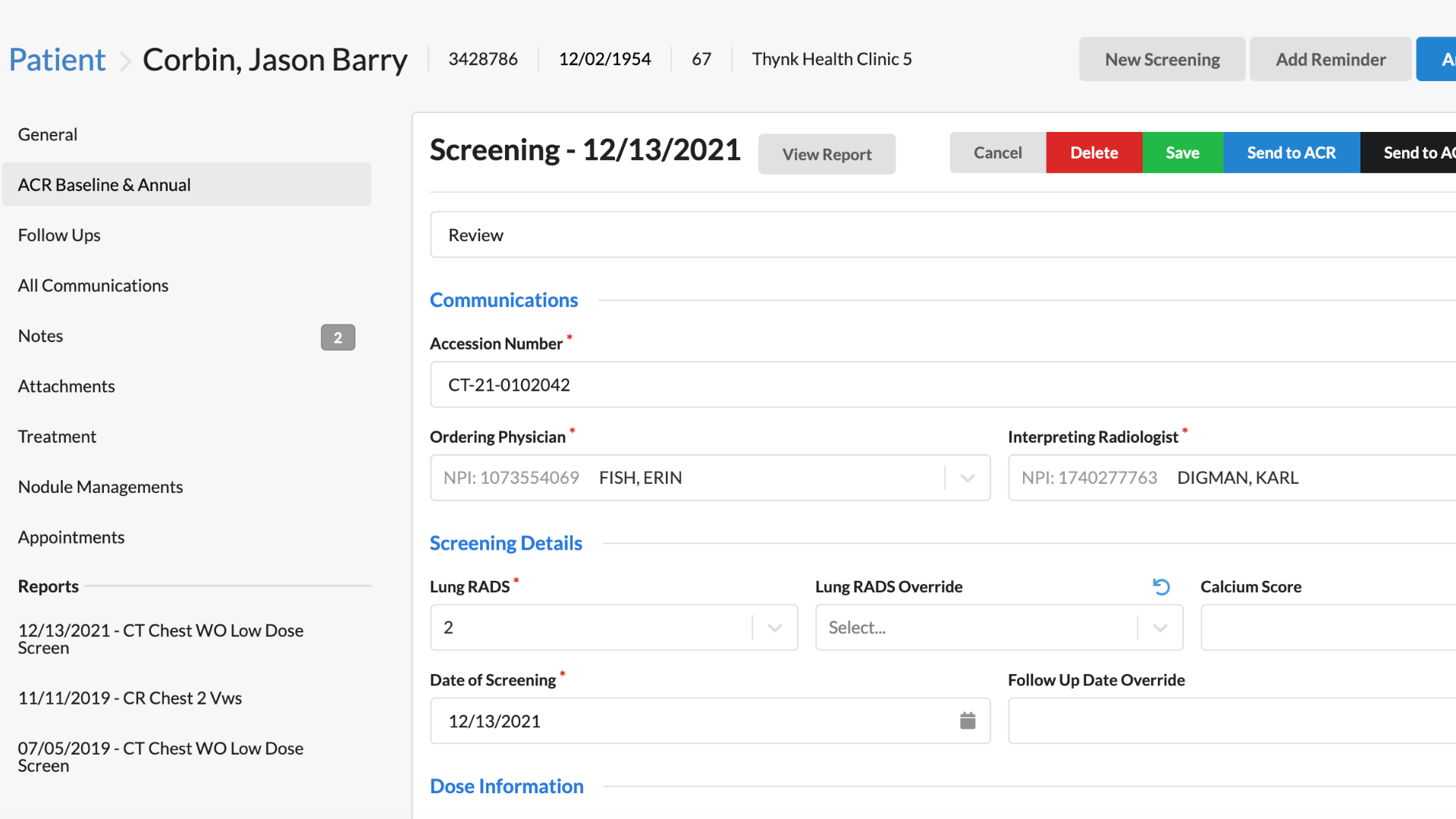 One-click ACR submission
1 of 2
Using advanced machine learning, fields are automatically populated from structured and unstructured data
2 of 2
Simplify & Automate Patient Communications
Provide education, lung cancer screening results, lung cancer screening eligibility reminders, appointment reminders designed to improve patient care and retention without expanding your workload.
Customized educational campaigns to notify patients of lung cancer screening eligibility

Upon data submission to ACR, automatic communication campaign is triggered to patients via an offsite, HIPAA-secure mailing service

All communications are fully customizable to your brand and messaging.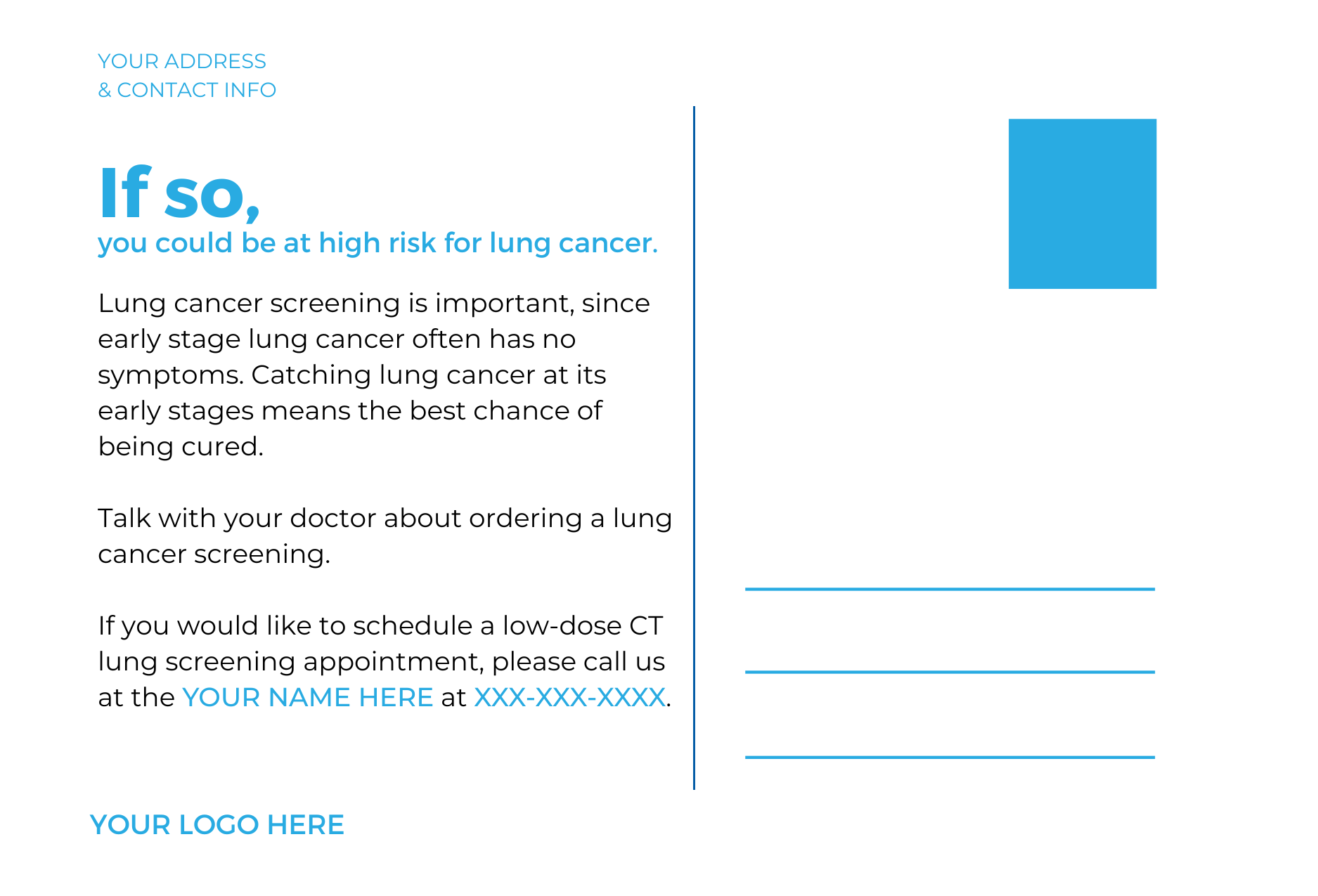 Customize post cards to your brand, messaging and contact information.
1 of 2
Post cards are automatically addressed and sent from an off-site, secure mailing service.
2 of 2
Track Patients & Improve Patient Retention
Increase the effectiveness of your lung cancer screening program with automated tracking of incidental findings, missed appointments, overdue annual lung cancer screenings and overdue follow-up diagnostic procedures. Prevent patients from falling through the cracks of complex healthcare systems by ensuring they are flagged and followed-up with at critical points in their health journey. 
View missed lung cancer screenings and reschedule patients who canceled or did not show in simple dashboards.

Incidental findings are identified using deep-learning, analytical techniques to flag incidents that fall outside of the low-dose CT scan (LDCT).

These are collated in a simple view, allowing providers to analyze and contact patients regarding the next steps.

The intent is to allow image data, pathological data, surgical findings, and management to provide findings on a large scale.

Automatically identified mention of reportable incidental findings using machine learning
1 of 1
Engage providers in your lung cancer screening program by communicating critical information, like the number of their patients eligible for lung cancer screenings, the number of lung cancer screenings ordered, monthly meetings, and analytic reports. Customized communications can be delivered to the provider's patients with information about screening eligibility and scheduling.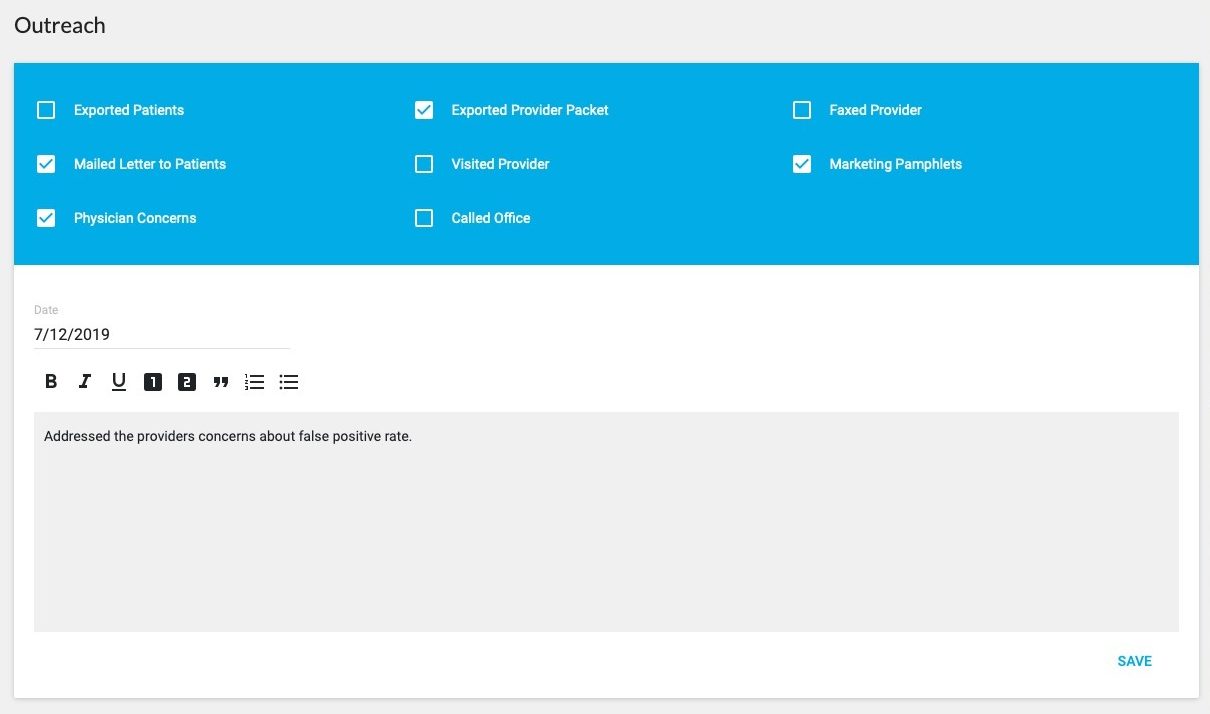 Identify which providers to focus outreach and resources on, as well as track outreach to determine your results from outreach efforts.
1 of 1
Simple Dashboard & Robust Reporting
Thynk Health's simple dashboard captures quality and operational data, providing hospitals with data and analytics to improve patient outcomes and operational efficiency.
Automated monthly and quarterly analytics reports

Customizable reports

Standardization of reporting quality is driven by ACR

Provider outreach reporting highlights the number of eligible patients and lung cancer screenings ordered
Simple Onboarding & Maintenance
Thynk Health's Lung Module integrates with your existing hospital systems (EHR, DICOM, PACS, scheduling, and more) and requires minimal to no IT resources for installation and upkeep.
No hardware, maintenance or update costs

Tap into other growth services such as Thynk Health Call Center solutions

Add-on modules with no additional implementation, such as incidental pulmonary nodule tracking or other incidental finding management – all accessed using NLP!

Immediate Results

Using Epic? Installs from easy-to-implement Epic App orchard (Learn More). Thynk Health completes Epic's LDCST automation and complements the build-out at any stage.

Thynk Health is fighting cancer by working with healthcare organizations and communities to disrupt outdated, burdensome cancer screening processes and incidental findings management to remove barriers between patients and treatment. Our sophisticated solutions automate and simplify healthcare data systems to ensure no patient slips through the crack.