Automated Pulmonary Nodule Tracking
With Thynk Health's Nodule Nav, healthcare organizations can improve follow up care from 29% to 100% with automated tracking of patients within a healthcare organization's lung cancer screening program. Thynk Health processes radiology reports, extracting number of nodules, nodule size, location, and nodule characteristics. Combined with patient age and history, this information is a significant predictor of lung cancer (research). The clinical team will be able to automatically track nodule changes within each appointment, flag nodules for follow-up, and recommend next steps. All of this is accomplished via artificial intelligence, allowing radiologists to keep traditional workflow in place and require no additional work.
Designed by Physicians for Physicians
Automated Nodule Tracking
Thynk Health's Nodule Nav offers automated data extraction and entry from historic and current radiology reports utilizing natural language processing and artificial intelligence.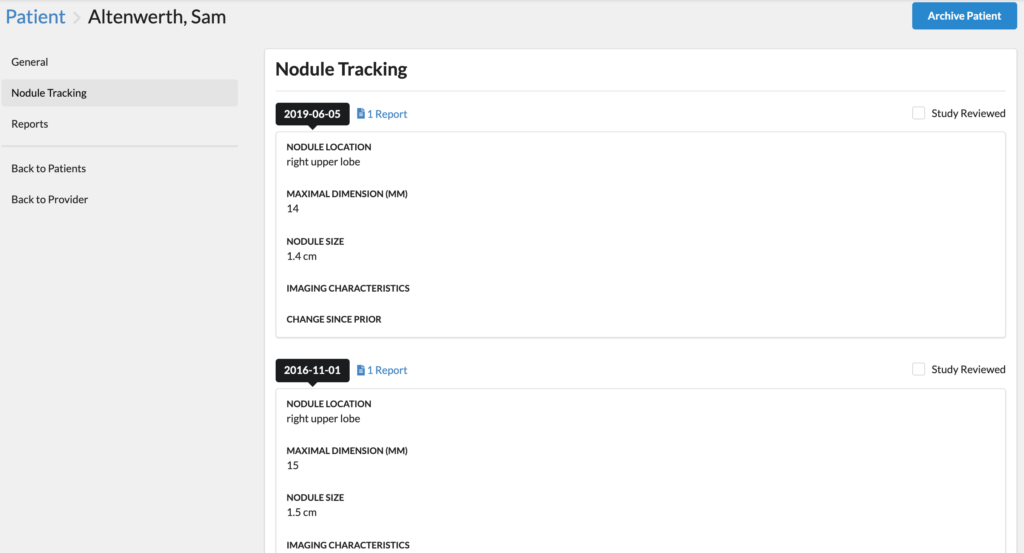 Patient Timelines & Next Steps
Patient timelines track pulmonary nodule changes and stability over time. Recommended next steps are offered based on best practices and guidelines set by industry leaders. Next steps can be customized per organizational protocols and programs.

Brock Model Risk Scores
Nodule Nav provides color-coded Brock Model risk scores based on nodule characteristics to flag critical care, next steps, and identify patients who need to be entered into the lung cancer screening program (most common with patients entering system through Emergency Room visit).